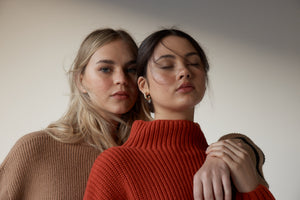 Welcome to Everly Collective
An Australian fashion brand for the modern woman.
Thoughtfully designed womenswear. Beautifully made with clever fabrics for contemporary lifestyles. Sustainably made to last.
Comfort, quality and effortless style. Everly clothes are designed to stir confidence and provide relaxed, sophisticated style – both flattering and timeless.
High quality basics and classic silhouettes. Versatile and functional. Created for every woman. Easily wearable styles and fabrics.
A celebration of modern femininity. Home of classic cut wardrobe essentials from sleek and tailored longline cardigans to statement PETA vegan approved faux fur vests and jackets.
Designed for easy, effortless wear throughout the seasons to take you from day to night, from classic casual to modern glamour.
Structurally lasting fabrics, quality production and high value materials.
SHOP EVERLY
Life by Everly introduces a range of garments featuring handloom keffiyeh fabrics. Casually luxurious. Shaped for comfort. Resortwear that is adaptable for all seasons. 
Meticulously crafted for summer sunseekers, and easy to wear from Spring through to Winter, and especially for embracing the lifestyle of summer and holidays.
This collection offers simple and considered laidback silhouettes. Taking the Everly woman from open air gatherings to celebrations at sundown.
SHOP LIFE BY EVERLY